Fashion Overload
By Tiffany Detweiler - Wednesday, October 27, 2010
The other night I had James watch the kids for me so I could soak in the tub...a hot mug of tea, the latest issue of Instyle Magazine and I was in heaven! One of my favorite way's to de-stress and relax is with fashion magazines or fashion blogs, for one I like the pretty pictures and two, I like the pretty outfits! I wouldn't say that I'm an overly trendy gal or that I fit into a particular style group I just like to pick and choose. I like some prep styles, some vintage, some modern...etc. I like it all! I'm pretty much that way with everything, my music, movies, food...I'll have a little bit of everything thank you very much! in the spirit of Fall Fashion Week I felt this would be a good time to share some of my favorite fashion blogs!

First up, Unabashedly Prep:


Not only does the blogger F.E. Castleberry take great photo's that showcase preppy style for both Men and Women, He also shares his monthly play list's the first of every month which include such awesome bands as Vampire Weekend, Band of Horses and many others!



Second, Fashion Under $100: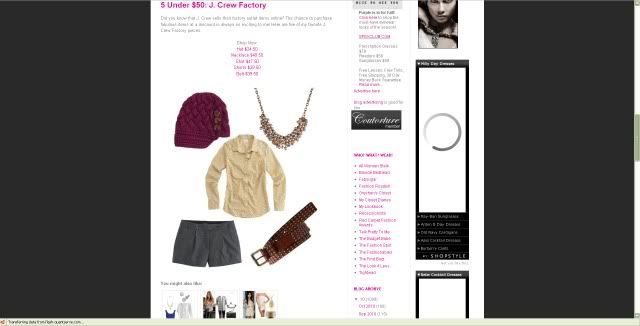 Who doesn't love a good bargain on great clothes?! Plus, I like to be able to see an outfit and know exactly where to go to get that look! Dana, Editor In Chief, makes it super easy to find celebrity fashion at great prices and she does a great job of showcasing the seasons hottest trends!

And finally, The Style Blogger:


This is strictly Men's fashion but I love the style and Images! On more then one occasion James has asked me my opinion on his outfit (especially for Date Nights) and I like to be aware of men's fashion to help give good advise! It also helps in my line of work, believe it or not but most men like to look good just as much as us ladies! I always get asked by my engaged couples "What should we wear to our session?" I want to be able to help them define their style and recommend something that will make them feel confident and awesome!


With that said we are now on Day 3 of Fashion week and I'm sporting one of my favorite plaid shirts, skinny jeans and boots! No accessories for this outfit, I kept it comfortable and simple.



Plaid Shirt: Target
Skinny Jeans: Banana Republic
Boots: Gifted from my mom and they are my most favorite boots, you will see them again!

Its never to late to join in the fun!