Merry Christmas!
By Tiffany Detweiler - Friday, December 25, 2009
Merry Christmas!

I pretty much can't believe its December 25th, in some ways I feel like this year just flew by! For me the whole month of December is exciting, decorating the house, baking goodies, listening to Christmas music! All fun activities with family and friends leading up to the day we celebrate the birth of Jesus! My heart always feels so full of Love and I can't help but reflect on all the ways the Lord has blessed my family and I!

The other night I took a picture of my living room, the Christmas lights were on, all the presents were wrapped and tucked under the tree and my hubby had a fire going in the fireplace! It was such a beautiful moment for me so I grabbed my camera and snapped a picture to share with all of you!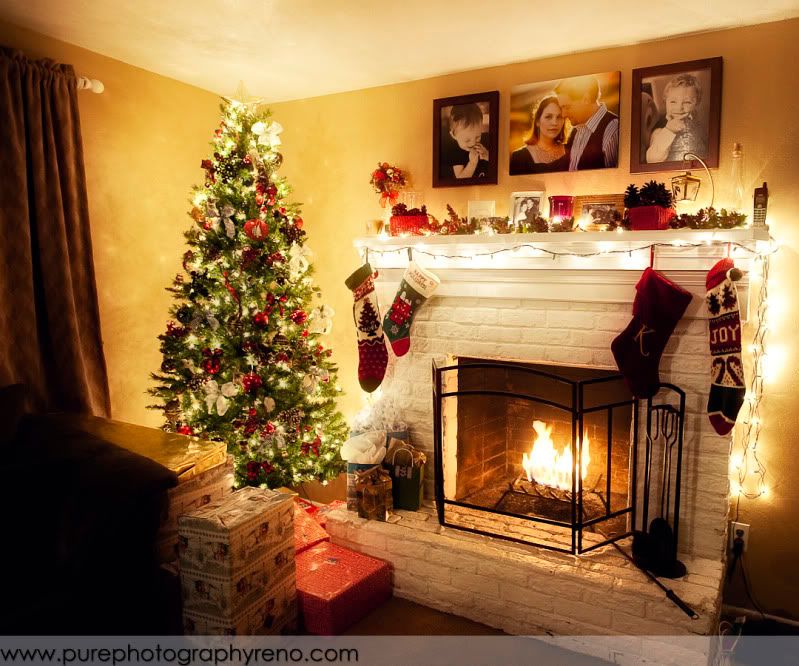 Come Christmas morning my living room will look quite different, lots of shredded wrapping paper, boxes and toys galore... and that moment will be just as beautiful!

This holiday season Fawn and I wanted to give a very special gift that we hope will be treasured for many years to come! We had so many lovely e-mails from people nominating friends, coworkers and relatives for our "
Giving is Awesome
" event that it was difficult to choose just one! But after much consideration and thought we have picked a family that we feel deserves a special Christmas gift this year! We are pleased to announce Becky Mixon and her family are the winners of our "
Giving is Awesome
" event! She has won...
A free Portrait session, DVD of all the images, 2- 5x7's, 1- 11x14, a custom 20 page photo book and an online web gallery!

Becky was Nominated by her Friend Jenni Saake who wrote a very sweet and touching e-mail about the families need for a special gift this Holiday season. Becky and her husband have 3 little munchkins ages 12,5 and 1. I can't think of a better gift for a mom then images of her kiddos so that in the years to come she will be able to look back and remember them at this stage in their lives! Congratulations Becky and thank you Jenni for taking the time to nominate your friend! We will be calling you both after the New Year to setup a time to meet and do your families pictures!

Thank you again to all of our readers and clients, you have all blessed us so much this past year!

May your hearts be lifted in praise this Christmas for the wonderful gift of Jesus and the joy He brings to our lives. Have a wonderful Christmas Day and a Blessed New Year!

<><

Tiffany and Fawn